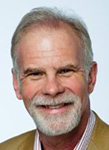 JOHN P. HAYS is a shareholder of the firm, where his transactional practice focuses on residential and commercial real estate, corporate and commercial law, representation of homeowners' associations, mediation, and land use and water law. His litigation practice (both trial and appellate) emphasizes zoning matters, real estate disputes, quiet title actions, and business and construction disputes before the New Mexico state district courts, the New Mexico Court of Appeals and the New Mexico federal district court.  Mr. Hays has been practicing law in New Mexico since 1990.
Mr. Hays also serves as a settlement conference facilitator for the First Judicial District Court. In that capacity, he has mediated dozens of disputes, with a very high success rate of achieving a negotiated resolution between adverse parties.
Mr. Hays is a 1987 graduate of the Boalt Hall School of Law at UC Berkeley, where he graduated Order of the Coif and was an editor of the Ecology Law Quarterly. Prior to moving to New Mexico, he clerked for a U.S. District Court Judge in San Francisco and practiced with a mid-size firm in San Francisco, He received his B.A. magna cum laude and Phi Beta Kappa from Amherst College in Massachusetts in 1978. After college, Mr. Hays worked in Washington, D.C. for Congressman Charles Schumer of New York City, Senator Paul Sarbanes of Maryland, and Governor Harry Hughes of Maryland.
Mr. Hays has been involved in numerous community and professional organizations.  For many years, he was a member of the the Board of Directors of the Center for Civic Values, which sponsors the New Mexico High School Mock Trial program, and also served as an attorney team coach and competition judge. Mr. Hays was also a Member and Vice-Chair of the Metropolitan Redevelopment Commission of the City of Santa Fe, which oversaw the development of the downtown railyard property owned by the City.
Mr. Hays is also the author of The Curious Case of New Mexico's Pre-Civil War Slave Code, an examination of the laws governing African-American slavery in the New Mexico Territory in the years just before the Civil War, which was published in the New Mexico Historical Review, Volume 92, Number 3, pp. 250 – 283, Summer 2017.
Outside of the office, Mr. Hays enjoys all things Italian, traveling, reading mysteries and history, and NIA.